Sustainable Energy for All (SEforALL), The African Climate Foundation, Bloomberg Philanthropies, the ClimateWorks Foundation, and the Chinese Renewable Energy Industries Association (CREIA) will launch a new collaborative initiative – green manufacturing initiative to drive large-scale renewable energy manufacturing capabilities and investment in Africa.
The event will take place on the main stage at the Abu Dhabi National Exhibition Centre's Innovation Zone and will include remarks from Minister of Energy, Matthew Opoku Prempeh; Kenya's Secretary of Energy and Petroleum, Mr. Davis Chirchir and CEO and Special Representative of the UN Secretary-General for Sustainable Energy for All and Co-Chair of UN-Energy, Damilola Ogunbiyi, among others.
The launch event which will take place today will be accompanied by a new report outlining Africa's renewable energy manufacturing landscape.
It will also outline strategies for Africa to become a leader in renewable energy manufacturing by ensuring long-term development.
According to available data, renewable energy accounted for nine per cent of all energy generated in Africa in 2020.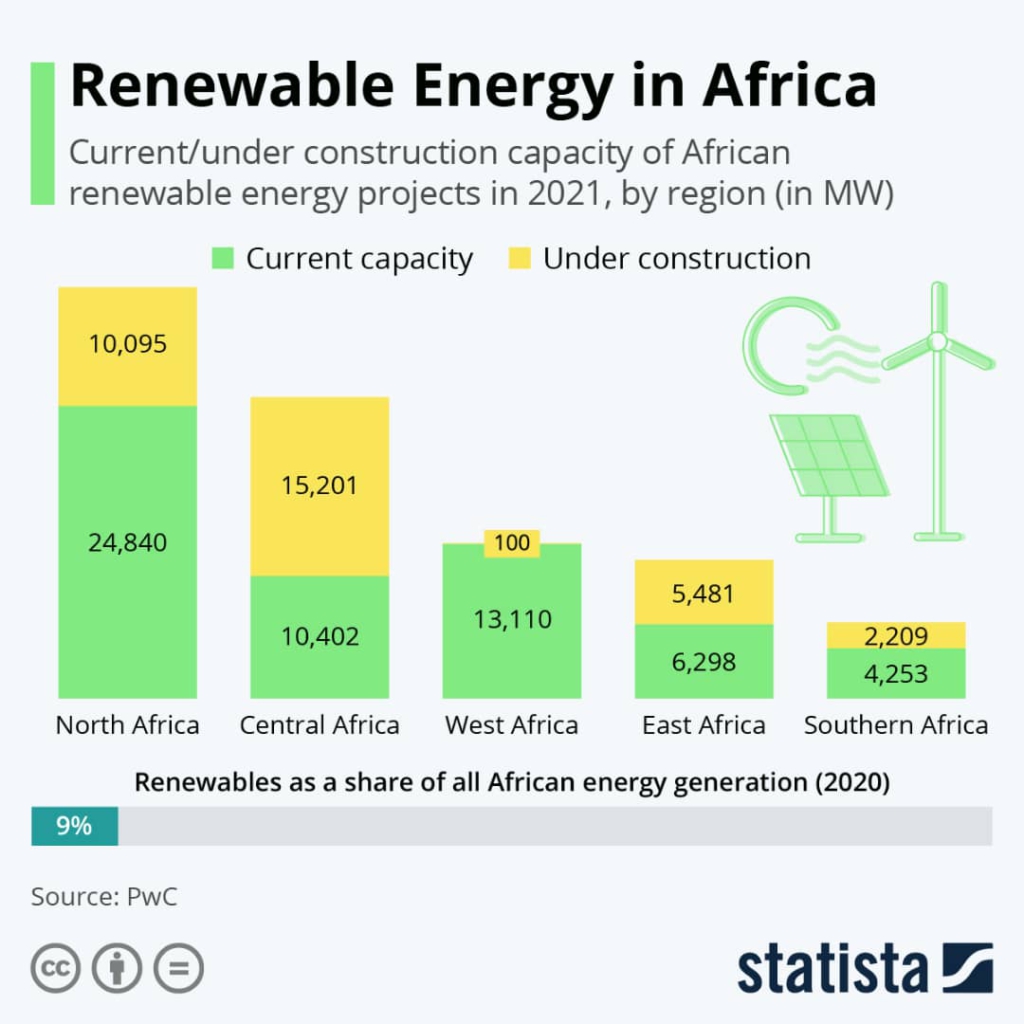 North Africa currently leads the continent in terms of renewable energy capacity, while Southern Africa lags behind with just over 4,000 MW. Central Africa's capacity is expected to more than double once all under-construction projects are completed.
However, the PricewaterhouseCoopers report indicates that progress is being made in this area. Solar and wind capacity increased by 13% and 11%, respectively, from 2019 to 2020, while hydropower increased by 25%.
"Total installed renewable energy capacity in Africa has grown by over 24 GW since 2013". Looking further forward, forecasts for 2050 predict an extra 27.3 exajoules (EJ) compared to the current 1.8 EJ.
Growth in the near future is "led by solar and wind projects in Egypt, Algeria, Tunisia, Morocco and Ethiopia".
West Africa, in Solar and wind projects in Egypt, Algeria, Tunisia, Morocco, and Ethiopia will drive growth in the near future. West Africa, which includes Ghana and Nigeria, has very little new capacity on the horizon, with only 100 MW under construction, compared to 15,201 in Central Africa.
Sustainable Energy for All (SEforALL) is an international organization that collaborates with the United Nations and leaders in government, the private sector, financial institutions, civil society, and philanthropies to accelerate progress toward achieving Sustainable Development Goal 7 (SDG7)—access to affordable, reliable, sustainable, and modern energy for all by 2030—in accordance with the Paris Climate Agreement.
Source: https://www.myjoyonline.com/